Tired of all those rejection letters
and no success?
Help is on hand
The Web's favourite Music Blog
link delivered to your Inbox each Sunday....
your music career will explode!
And All For FREE!!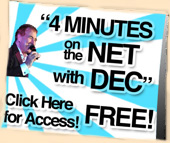 You get the 'real' story from the 'real' experts.
You learn to write and make 'money making' Hit Records
You take a short cut to the top
You save a $fortune and make a $fortune
Your music life will never be the same
'4 Minutes on the Net with Dec' is the hottest new music blog on the Net
and can be accessed by you each Sunday for FREE....
fill in the application and let us know your music experience,
your hopes and aspirations in this great Music Business.