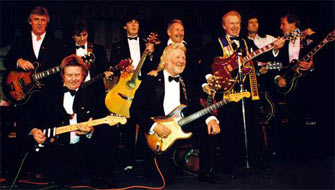 The classic picture.....Dec [right] jams with Bruce Welch [Shadows] Joe Brown, George Harrison, Mike Reid, Lonnie Donegan, Chas Mc Devitt, the daddy of 'em all, Bert Weedon and Brian May [Queen] ....what a gig?
One of the last great gigs for George - Phil Collins introduced the impromtu guitar band on a very special charity gala night.
Dec Cluskey, started his career with his UK based band: 'The Bachelors'. One of the tiny few to have two records in the TOP FIVE at the same time. He has made £Millions from music writing, performing, recording and production - would you let him show you how?
Dec Cluskey has personally made £MILLIONS from music and sold MILLIONS of singles and albums world-wide...more known in the UK from his band 'THE BACHELORS' with their 18 chart singles, 2 Number Ones and recently released their 75th (yes seventy fifth) album. 2 Gold Records in 2008.
One of the elite bunch of hit recorders who have had two in the Top Five at the same time.
Dec now advises and produces many current 'hot properties'. A 'force behind the scenes' in many bands and single artistes. After all, his was the FIRST international band out of Ireland to have a Number ONE!! Then followed U2, Boyzone, Westlife, Coors, Bewitched, Somantha Mumba...
Dec made his pile years ago and now gets his kicks from helping others to do the same. Sure, he makes good money from music - but that's not the main reason he does it! He just loves helping people make a fortune! "It's easy", says DEC, "it's only hard work!"
King Rat!
As a mark of his standing in British show-business Dec has been honoured by being chosen as a King Rat and Trustee of the World's foremost and most prestigious and exclusive show-business charity, The Grand Order of Water Rats. Members include well known and much loved entertainers - to name only a very few: Brian May, Rick Wakeman, Mike Batt, John Lodge and Michael Crawford. Bruce Forsyth, Jimmy Tarbuck, Frank Carson, Tom O'Connor, Barry Cryer, Roy Hudd, the incredible Amplifier man Jim Marshall, Joe Pasquale. The Order includes Companion Rats like:- their Royal Highnesses Prince Charles, Prince Philip and .....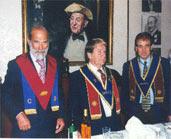 Prince Michael of Kent...........
[Dec [on right] with Prince Michael and Wyn Calvin]
Laurel and Hardy were proud to be Rats, Bob Hope, Charlie Chaplin, Tommy Cooper...legends like Maurice Chevalier, Matt Monro, Danny Kaye.....Wow!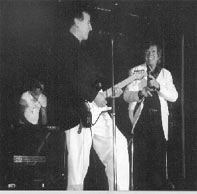 A respected guitarist, probably the best vocal arranger around, he struts his stuff to record breaking crowds regularly...in concert with his brother Con.
Sell out concerts are the norm...here at Bournemouth International Centre in the UK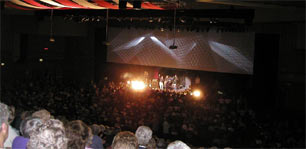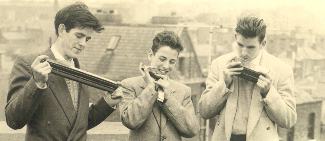 From humble beginnings on USA radio as a kid playing a mouthorgan [centre]
To enjoying a life of luxury - he also works from Spain - Dec still tours and produces - but he likes nothing more than helping find solutions to music makers problems.
He currently attends to 300 + Emails per day!

Dec only plays with the best! - Here he is with Brian May of 'Queen'.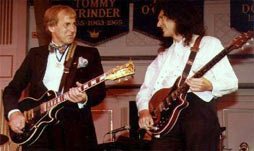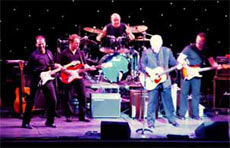 Dec [left] takes Hank Marvin's place to play The shadows 'Apache'
with the legendary Bruce Welch...recently at The Congress Theatre Eastbourne.
The entire show devised and produced by Dec for Eastbourne's Special Needs Children....

Dec, on the left, leads the full cast with the 'angels' - just a few of the special needs children of Eastbourne....

Jeremy Beadle, Con and Dec The Bachelors, Joe Brown and The Bruvvers, Adger Brown, Roy Walker,
Bruce Welch, Tony Barton, Twin tone, Counterfeit Kylie and Probably Robbie, Russ Williams.
All produced by Dec .... "Always have Charity in mind" ... says Dec.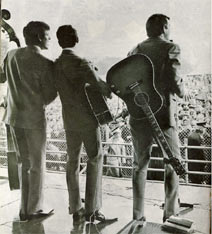 From the first outdoor arena concert by a British based band....
at Lord Bath's Longleat House

To being named one of the ten most influential people in the music industry in the past 40 years by Marshall Amplification...here the uniqe gold amp award and Jim Marshall


Could Dec help you find success in music?
v