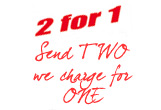 Where do the Pro's go to check out their demos?
Where do they go to assess the Hit Potential of their Toons?
Where do they get professional appraisal?
ANSWER?
'The 'MAKEHITS' Demo Consultation Service'

#Would you like to know what the record companies REALLY think rather than "not quite what we are looking for at the moment"?
# Would you like to know how to tweak your demo to get the attention of the record and publishing companies?

Question: Why is the MAKEHITS demo consultation service the best on the Net? A personal service from Dec Cluskey?
Answer: Simply because it is 'for real'. I have refused for years to get involved with evaluations, appraisals and critiques of lyrics, songs, music. And by refusing, I know I have offended a lot of great songwriters and music makers. So I have relented. But - I have made a promise to myself that I will give honest, no holds barred advice on the songs that are sent me.
You will be knocked out by the written critique you will receive, with all my personal comments and advice. You will be even more knocked out by the CD you get from me with all my personal comments about your demos.. plus encouragement and praise where it is due....a unique and worthwhile tribute to your writing skills.
This will not just be a rubber stamp on your lyrics with a silly date on!
I have had loads of Hit Records....so I know a Hit when I hear one....could it be yours?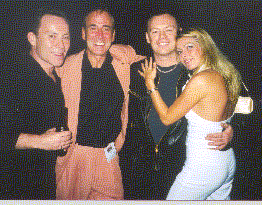 'Dec with the UB40 guys and, Serious Writers Guild Managing Director,
Vicci Esselle at BBC TV's Number One Party...
Dec is one of the elite club of Hit Makers who had two in the top 5 at the same time'
Just listen to what you will get:
ONE: I will listen to, or read, each song/lyric you send me, over a period of several days. I will make careful notes about every note and every syllable, with specific references to it's commercial appeal....in other words: "will it make money?"
TWO: THE CD - I will personally answer all of the questions you include with your package, and dictate them on to CD, which I send to you by first class mail. Listen to it whenever you need that extra bit of encouragement.
THREE: If you write lyrics only, or music only, and need a writing partner, once I hear/read your work, assuming it's right for the marketplace, I'd be happy to refer writing partners to you. Our 'Serious Writers Guild' is full of guys willing to co-write, co-produce.
FOUR: If you are a singer/band looking for hit songs, once I hear your voice, I'll be happy to refer songwriters to you who write hits in your genre. Again, our 'Serious Writers Guild has many quality songwriters, producers and music makers who will be happy to submit Potential Hit songs to you.

We can submit your songs:

FIVE: If your work is right for the marketplace, I will happily submit your material to everyone who contacts me looking for Potential Hits in your genre. This service is included in my consulting fee. There is no extra charge. I'm happy to share my contacts with good writers.
SIX: If your writing needs a little polishing to give it a commercial edge, I will make very detailed, specific comments and suggestions, offering positive encouragement on how to "fix" any of your songs that, I feel, need it. You will then know what a 'sellable' song is.
BONUS: For each song you send we will send you an inscribed certificate of copyright. Your music/lyrics are therefore totally protected. We will keep your music for safe keeping.

In Short:
1) I will answer all of the questions you include with your package.
2) I will record my detailed comments about your presentation and songs on CD.
3) You will receive a 17 page booklet detailing the main points on my critique CD for easy reference
4) You will receive a copyright certificate on parchment paper [which you will love to frame] for each song
5) It will all be mailed to you first class.
6) How long will it take? I like to spend about ten days to really get into the material properly.
How to set up a consultation with Dec
Simply get in touch by Email CLICK HERE and tell me that you want to send your material for a full critique and appraisal. We will then send you a unique PIN number to put on your letter or Jiffy Bag. This will ensure you get immediate attention. This is also for security reasons.
Put the copyright symbol on your songs, then you know they are protected. We can, then, focus all our attention on how to get your work to the right people.
Send me your music or lyrics NOW - a link to your music .... or on CD/Tape/Mini-Disc....in a secure Jiffy Bag WITH THE PIN NUMBER ON THE FRONT [No DAT tapes please - unreliable!]
How much does it cost?

One song: £57.70 pay by Paypal [you don't have to belong to Paypal]
Five Songs in one package: $277 [£173] [EU 267] go to https://secure.mistral.co.uk/makehits/swgappsecure.htm
Every additional song in same package: $27 [£17] [EU 27] go to https://secure.mistral.co.uk/makehits/swgappsecure.htm
If you choose to pay by credit card [using Paypal]
Credit Card Hotline: UK 01323.728005 from all other countries: +44 1323.728005 [UK GMT office hours]
Check time in the UK now? http://www.page-1.com/time/
As soon as your package arrives, we'll let you know it got here safely.
If you only want lyrics appraised then you can send them by Email - JUST QUOTE THE PIN NUMBER I GIVE YOU.
If you have your songs posted online, and want to pay by credit card, you are welcome to send me the web address for your work, along with all your credit card information.
Make cheques payable to 'The Serious Writers Guild'
Send Cd's, lyrics etc. with PIN number on front of package to:
DEMO CONSULTATION
The Serious Writers Guild
Darley Road
Meads
Eastbourne BN20 7UH
IN THE UK
I will answer all of the questions you include with your package, and make my detailed comments about your songs on CD. It will be mailed to you first class. How long will it take? I like to spend about ten days to really get into the material properly.
Regards to all and don't forget:
If I can help you, get in touch at
To get a Demo consultation Pin Number,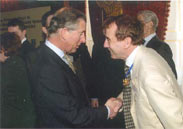 Dec ...... Yep....with Prince Charles!
They belong to the same club....
NB: Please note that we cannot be responsible for loss of your demo or materials. DO NOT SEND ORIGINALS....only send copies.