"SO, YOU ARE NOT GETTING A RECORD DEAL?"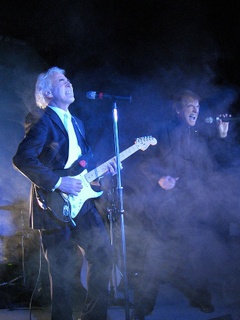 The Boss [Dec] in Action
From an original piece by Jay Flanzbaum.
With comment and additional material by Dec Cluskey and the Makehits Team 2013
How to change it all if you are not heading in the right direction for you, your band, your career.
<!BEGIN BOOKMARK TRAFFIC BOOSTER CODE>
This is a short article on how it all really works ... perhaps you are frustrated with your efforts so far? This will help, I promise you. And if you are a member of The Serious Writers Guild then you know you can just pick up the phone and call me ... straight to the phone on my studio desk.



Over to Jay Flanzbaum http://www.onlinegigs.com
I am going to go out on a limb here, but there is something you need to know.
You are not getting a major label record deal, you will not get signed to a major booking agency or management company, you will not be getting a support slot on the tour for that arena band that has influenced your sound, nobody is going to finance a national tour for you and no one is going to publicize your performances to the media. There I said it. I know it's not what you wanted to hear and it's possible that these are the only ways in which you have defined "success." But I can confidently say that the odds are just against you and in actuality the odds of you winning your state lottery are better.

Dec Says: Whew! Pretty tough stuff? A lot of negativity from Jay?

I don't wish to suggest that some or all of these things might not happen to you. There is always the possibility. But even if you were to get a lucrative record deal or sign to a major agency, you are still not necessarily assured of success.
Simon Cowell says: "A record deal is only the very tiny start of a very long and bitterly tough journey."
The reason I think it's important to embrace this idea that you are not getting signed to some stellar deal, is that the results of thinking the opposite can be debilitating to an artist or band. I think it is time we put an end to the cliche about the performer who wastes their entire career playing the same local bars, waiting for that ever elusive recording contract, agent or manager.
Einstein said: "The definition of lunacy is doing the same thing over and over and expecting a different result."
In today's technological landscape, all the means of production and distribution that historically were held in the hands of a few execs, are now held in the hands of the many. What this means for you is that there are just no more excuses for being without a CD or a website. There are no more excuses for only performing locally and there are definitely no more excuses for neglecting to adequately publicize all of your performances. The power lies in your hands now more than ever and the realized benefits grow exponentially as you become more adept at managing your own career.
Dec Says: Well said ... it is all there for the 'doing' .... the most important phrase in business life today is "you simply have to 'do it' ... no one will do it for you.
I know you think your band is different from all the rest. I know you think you have something far more marketable or special, and this is the reason you need to become your own agent, manager and publicist first.
Absolutely ... says Dec.
No one can sell your band like you can. Any agent that adds you to his big roster is just adding another commodity to his inventory to ultimately add to his bottom line.

He is not always selling you for the extraordinary talent that you are. He is more often than not selling you so he has an opportunity to make a commission
Every time, says Dec ... but there is nothing wrong with that ...
the Agency game is not easy .... have you tried it?
But here is more bad news for you: YOU HAVE ZERO VALUE. That's right. Technically you are worthless, and agents don't usually seek out bands that only give them an opportunity to make 15% of NOTHING. The hardest thing for many artists to understand is this idea that a new band in a new market has no value, but if nobody in that market has ever heard of you, then nobody is going to come out to see you.
And I don't know of many original music clubs that make their living selling tickets and liquor that are willing to pay serious dollars for a band playing to an empty room. Similarly most record companies are not clamouring to pick up an act that has no representation or serious experience with touring and performing. However, you are infinitely more valuable to a booking agency, manager or record company if you can prove that you have some momentum in markets other than your own hometown. It doesn't matter if you are the greatest songwriter in the world or if you show up with an amazing light show complete with Stonehenge stage props. An empty room is a money loser for all parties.
Dec Says: This is so important to understand .... a manager has got to have something to manage ... an agent has got to have something to 'sell'. It is YOU that has to prove initially that the manager/agent can make money from you ... he/she will always offer the tried and tested money makers on the roster for every paid gig that a promoter wants to put on.
So what does an independent band to do? I know it sounds hopeless, as if you are destined to waste away in your bedroom for all of eternity. But that is just not the case any more. With a cell phone and a laptop, heck with a calling card and a pad of paper, you hold the power to the greatest distribution channel there is:

THE ROAD. There can be a solid plan for you to follow so you can start creating real value, start playing out in new markets and start making your act attractive to agents, record companies and managers. It is not going to be easy. There are no get rich quick schemes here except for maybe winning the lottery. But the biggest lesson I am trying to convey is that you do not live your life waiting for that winning lottery ticket, so why waste your music career waiting for an elusive deal that may never come.
Dec Says: The most important point is that YOU have got to prove that you [or your band, or both] can pull in customers that the venue has never had before ... simple? That way the venue makes money, you get new fans, you make money and everyone is happy..... Here is a plan:
1) Go to a local wine bar/pub/venue talk to the boss [not the dippy barman/bargirl who has no say in the matter] Find when the boss is about

2) Say: "I notice you're not busy on Thursday nights .... I've got some gear in the car/van outside .... I can set up my band in twenty minutes flat, no one will hardly notice. We'll play for twenty minutes .... if you like us and your customers like us then we can talk about a regular gig on Thursdays? Or whichever is the quiet night.

3) If you don't like us, we'll quietly leave and I will buy a drink for everyone at the bar ....Okay?"
Oh, by the way, do not, under any circumstances allow the drummer/guitarist/bassist/keyboard player to blast off into riffs as you set up ... drummers are notorious for this, as are lead guitarists .... it really upsets customers .... if your gear is set up right, sound wise, the first notes the customers should hear is an orgasmic first toon.


This does a lot .....
1) It means that you are proving that you have what the public want ... no one knows how good you are when you are rehearsing in your bedroom or at the dreaded band rehearsal rooms .... you have to prove your worth ... or it will cost you a lot in drinks?

If you get the regular gig this will happen .....
a) Each week should gain new customers, new fans, more appreciation .... if you really prove you are what the public want and not just a rehearsal band
b) With the money earned you can increase the band numbers, if that is a benefit
c) With the money earned you can improve the equipment, lights, sound, crew
d) You collect database aggressively .... you get a long table, or a number of smaller ones in a row [essential] for your merchandise CD's, Posters, 10"X8" glamour pics. You sell Polaroid or similar instant pictures of the customer with the band in a custom made card frame with all contact details and promotion on. Talk to me about what to sell ... you will be surprised how much you can lose with Tee Shirts, Key Rings, Mugs etc.
e) Other venue owners will hear about your success and want you at their venue in the town ... then in the county ... then country wide .... agents will hear of your success and book you for other type gigs ... private, corporate, fund raisers, festivals, overseas
f) The quality of your demos, merchandise CD's and tracks for download will improve, become more commercial, as you realise what tracks please the punters .... you will take my advice and only go near a studio with the best hit producer you can find/afford/do a deal with. DVD's
g) In twelve months, 'sold out' signs ... queues down the street .... you should have the Band from Heaven with phenomenal live performing skills [ talk to me about this! 'The Art of Live Performing' ] a database of 30,000 ... Facebook pages, Twitter followers ... Social Media gone in overdrive ... a website with pictures galore of each gig and punters names attached. Good dosh coming in from Gigs ... great costumes, stunning sound and lights and stage pull ups and backdrops. Merchandise making serious dosh
h) You won't even have to approach the record companies ... they will certainly hear about you. But there is a sure and certain way of dealing with that [ see 'How To Make A $Million From Your Music']

SOME HARD FACTS YOU WILL NOT LIKE:
You will lose some or most of your original band members ... reason? Some guys just cannot handle success ... and, unbelievably, some cannot perform [honest!]. But don't worry, there will always be a queue of wannabes waiting to join you
You will lose more band members and be consumed with self doubt as you realise you have to become ultra commercial to please your audience. They will hate the fact that the biggest song of the night is the cheesy cover which you perform in your own unique band style
You will lose more band members when they realise that they HAVE TO mime on TV shows, radio and club P.A's [public appearances]
You will have to become a hard task master .... no lateness accepted ... no sloppy dress .... no 'girl friends' [a golden rule]. No alcohol, drugs, substances [sad, but true!]
You will have to become a hard businessman ... choose your manager ... choose your agent ... choose your record company [yep!]. It is said that Mick Jagger is much happier with a calculator in his hand than a guitar.
You can forget about Christmas, Easter, Thanksgiving .... birthdays, holidays .... successful guys have no concept of enjoyment coming before a gig commitment [you will lose more band members over this]
You will certainly lose your girlfriend/boyfriend/significant other.
At the end of this article you are realising that this is not the glamorous easy life that you presumed it would be ... "a way of not having to get up in the mornings?". An easy way to sex, drugs and Rock 'N Roll?

Nope ....

I can honestly say I have worked my socks off every day of my career ... no let up .... very little relaxation time ....no birthdays, Christmas etc. Quality time with my kids

But how much have I made? How much sheer exhilaration and fun have I had from hits, world touring, TV, Films?

Performing to 250,000 audience with them in the palm of your hand? Come on? Every music man's dream?
Best of luck with your project ... with the ideas above there is no excuse ... oh, except that you have to know what a hit record is and how to write it and produce it .... where do you learn that? The Serious Writers Guild ... membership simply by purchasing "How To Make A $Million From Your Music"
Jay Flanzbaum is a musician, booking agent and web designer. He began his career booking national tours for unproven acts from all across the country.

Onlinegigs is an incredibly powerful tool for musicians, agents, record companies and managers. It will help you automate the administration of booking and promoting your band or bands.

http://www.onlinegigs.com
Dec is Dec Cluskey, Multi Million selling recording, Live. TV and Film star.
His ' Serious Writers Guild' has propelled many into huge music careers.

Check out "How To Make A $Million From Your Music" the entry point for membership of The Serious Writers Guild. Simply purchase this award winning ten month distance learning course and get automatic lifetime membership of the Guild.

Our difference is that we really care.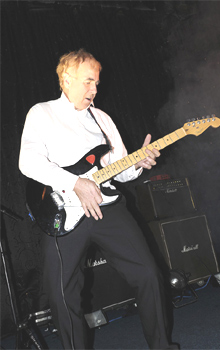 Regards from Dec [email me?]
The idea for this article on 'cannot get a record deal' was from songwriting and music making members of The Serious Writers Guild. It gives an idea of the benefits of belonging to the Guild. You can join simply by purchasing the ten month programme 'How to Make A $Million From Your Music' at www.makehits.co.uk/swgappsecure.htm
References:

This Article was written by Dec Cluskey from an original idea by Jay Franzbaum
Email a question? contact@makehits.com